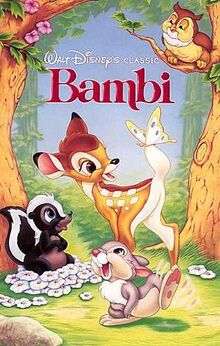 After its last theatrical re-release on July 15, 1988, Bambi was released on home video on September 28, 1989. The film, once again, is presented without its original RKO Radio Pictures or a Buena Vista Distribution logo. In my opinion, I think it forgot the 1985 Walt Disney Pictures logo, but they did make the right decision to have no closed captions on the trailer for The Little Mermaid.
Bambi sold about 9.8 million copies during the 1989-1990 season. It was later withdrawn from sale as of April 30, 1990, just before The Little Mermaid was released on VHS.
Acknowledged by generations of moviegoers as one of the greatest Disney animated Classics ever produced. This extraordinary movie miracle is most fondly remembered as Walt Disney's favorite picture. The simple, heartwarming story of the newborn "prince of the forest" reflects the universal joy in us all as we discover the wonders of life and the beauty of nature. Each new revelation, along with Bambi's budding friendship with fun-loving Thumper, elevate this beloved Classic to the status of Timeless Masterpiece.
| | Video | Creation date |
| --- | --- | --- |
| 1 | Red warning screens | November 8, 1984 |
| 2 | Trailer for The Little Mermaid | September 28, 1989 |
| 3 | Walt Disney Classics logo | September 28, 1989 |
| 4 | Bambi | August 13, 1942 |
All 9 Walt Disney Masterpiece Collection titles from 1994-1996
All 15 Walt Disney Family Film Collection titles
Community content is available under
CC-BY-SA
unless otherwise noted.