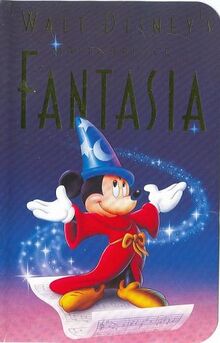 Fantasia's last theatrical re-release occurred on October 5, 1990 after undergoing a restoration process. It began printing on VHS in July 1991. When advertised on television in November and December 1991, the commercial for the Fantasia VHS contained the gold Walt Disney Home Video logo for the first time ever. The video sold over 14 million copies through 1992, and was never released on VHS again after that.
One day after its initial VHS release, a documentary called "Fantasia: The Creation of a Disney Classic" aired on the Disney Channel since then.
Walt Disney's most celebrated, most acclaimed and most requested film is finally here... Fantasia! This extraordinary blend of magnificent music and classic Disney animation is an exhilarating sight and sound experience that has emerged as a milestone in the history of motion pictures. Featuring a host of unforgettable images including Mickey Mouse as the Sorcerer's Apprentice, Fantasia has captivated generations of moviegoers all over the world. The breathtaking beauty, electrifying power and very special magic of this timeless masterpiece are now yours to enjoy. See the music, hear the pictures, and share Walt Disney's greatest triumph... Fantasia!
| | Video | Creation date |
| --- | --- | --- |
| 1 | Red warning screens | November 8, 1984 |
| 2 | Walt Disney Classics logo | September 28, 1989 |
| 3 | Fantasia (restored version) | October 5, 1990 |
Toccata and Fugue in D Minor by Johann Sebastian Bach
The Nutcracker Suite by Pyotr Ilyich Tchaikovsky
The Sorcerer's Apprentice by Paul Dukas
Rite of Spring by Igor Stravinsky
The Pastoral Symphony by Ludwig van Beethoven
Dance of the Hours by Amilcare Ponchielli
Night on Bald Mountain by Modest Mussorgsky
Ave Maria by Franz Schubert
The Little Mermaid (VHS) (UK version)
Community content is available under
CC-BY-SA
unless otherwise noted.