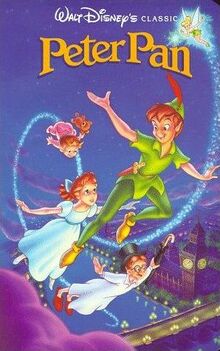 Peter Pan was last released in theaters on July 14, 1989, before it was released on VHS a year later in 1990. But yet again, no Buena Vista Distribution logo is there in the film. The laserdisc had no previews; instead, replacing all of the previews is the LaserVision logo. The earliest copies of Peter Pan were printed in March 1990, and the price for Peter Pan was $24.99. The sale for this video and The Little Mermaid ended on April 30, 1991, the former selling 7 million copies.
Take to the skies for the most magical, musical animated adventure of all time with the one and only Peter Pan! Based on the beloved story by Sir James Barrie, this timeless tale springs to life with breathtaking artistry, memorable songs and unforgettable characters. Join the mischievous Peter Pan, the young boy who refuses to grow up, his hot-tempered pixie companion, Tinker Bell, and the wider-eyed Darling children as they battle the most notorious, uproarious villain of them all, Captain Hook! Just take the second star to the right and go straight on till morning and you too will reach the wonderful world of Never land... for once you let your heart take flight, you can never grow old!
| | Video | Creation date |
| --- | --- | --- |
| 1 | Red warning screens | November 8, 1984 |
| 2 | Sneak preview of The Rescuers Down Under | September 21, 1990 |
| 3 | Video preview for The Little Mermaid | September 21, 1990 |
| 4 | Walt Disney Classics logo | September 28, 1989 |
| 5 | Peter Pan | February 5, 1953 |
All 9 Walt Disney Masterpiece Collection titles from 1994-1996
All 15 Walt Disney Family Film Collection titles
Community content is available under
CC-BY-SA
unless otherwise noted.