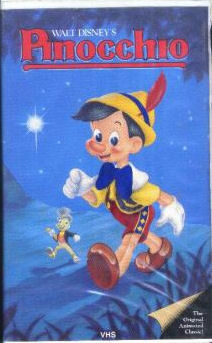 After its successful theatrical re-release on December 21, 1984, Pinocchio was released on home video on July 16, 1985, as announced in May of the same year. Its list prices for VHS and laserdisc were the same as Robin Hood -- $79.95 and $34.95, respectively. However, starting on December 3, 1985, the price temporarily dropped to $29.95. This price was only valid through February 28, 1986. The video then returned to its original price afterwards, and the video continued sales through April 1987.
Count the number of truly classic animated films and the list would begin with Walt Disney's Pinocchio. C. Collodi's brilliant story of a little puppet who dreams of being a real boy unfolds as a shining example of vivid, rich, detailed Disney animation at its finest! An unforgettable cast of characters includes the spry Jiminy Cricket; kindly old Geppetto; the sneaky J. Worthington Foulfellow; a terrifying whale named Monstro; and, of course, the little puppet made of wood, Pinocchio. Coupled with the haunting theme song "When You Wish Upon A Star," you have a timeless, unparalleled film adventure for anyone who has a dream in their heart.
| | Video | Creation date |
| --- | --- | --- |
| 1 | Red warning screens | November 8, 1984 |
| 2 | Trailer for The Black Cauldron | June 21, 1985 |
| 3 | The Classics: Walt Disney Home Video logo | December 3, 1984 |
| 4 | Pinocchio (restored version) | December 21, 1984 |
In the 1986 re-release of this video, the trailer for The Black Cauldron was removed. In addition, the 1986 red warning screens were used in place of its 1984 counterpart, and the video dealer announcement was also there.
Community content is available under
CC-BY-SA
unless otherwise noted.