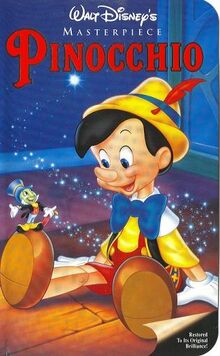 This is a restored version of the film, released in theaters on December 21, 1984, and on VHS on March 26, 1993. Priced at $24.99, Pinocchio was claimed to be "available for the last time this (20th) century", the film was actually later released in 1999.
A timeless musical fantasy that has touched the hearts of millions throughout the world, Pinocchio remains the most perfect animated feature Walt Disney produced (Los Angeles Times). This legendary milestone won two Academy Awards, for Best Score and Best Song, "When You Wish Upon A Star", the all-time classic that echoes the universal theme of love, family and friendship. While the kindly toy maker Geppetto sleeps, a blue fairy brings his beloved marionette Pinocchio to life, beginning a fantastic odyssey that will test the wooden puppet's bravery, loyalty and honesty -- virtues he must learn to become a real boy. Despite the warning of his wise friend, Jiminy Cricket, Pinocchio befriends a variety of roguish characters, leading up to his climactic battle with Monstro the whale! For over fifty years, this inspiring tale about the magical power of believing in your dreams has delighted generations. After a year of meticulous restoration, which included cleaning and removing scratches from the original negatives frame by frame, eliminating age-old distortions on the sound track, and revitalizing the color, the now-pristine film was reissued in 1940. Now, the fully restored Pinocchio can be enjoyed for the first time on video and forever in the heart of anyone who has ever wished upon a star.
| | Video | Creation date |
| --- | --- | --- |
| 1 | Green warning screens | June 19, 1992 |
| 2 | Trailer for The Nightmare Before Christmas | March 26, 1993 |
| 3 | Video preview for Aladdin | March 26, 1993 |
| 4 | Feature Presentation | June 19, 1992 |
| 5 | Walt Disney Classics logo | September 28, 1989 |
| 6 | Pinocchio | February 7, 1940 |
All 9 Walt Disney Masterpiece Collection titles from 1994-1996
All 15 Walt Disney Family Film Collection titles
Community content is available under
CC-BY-SA
unless otherwise noted.