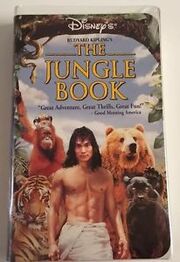 May 19, 1995
$22.99, $39.99 (Letterbox Edition)
Running Time: 1 Hour 51 Minutes
Print date: May 3, 1995
Disney scrapped the songs and talking animals for its second version of Rudyard Kipling's classic novel, an old-fashioned boy's adventure that more resembles the classic Korda brothers' lush original than Disney's own animated musical. In this live-action version, Jason Scott Lee (the hunky star of Dragon: The Bruce Lee Story) is the grown Mowgli, a boy raised by wolves and taught the ways of the jungle by Baloo the bear and Bagheera the panther. Fascinated by Englishwoman Lena Heady, whom he spots marching through the jungle on a safari, he follows her to the city. She teaches him the ways of polite society while a greedy British soldier (a sneering Cary Elwes) plots to discover the fabled lost city, where a fabulous fortune awaits. At this point the film becomes more Tarzan than Kipling. Lee's rippling form, back in the freedom of a loin cloth, is on display running through the jungle, swinging on vines, and going mano a mano with snooty Englisher Elwes. His charm and sex appeal has made this film a favorite of many adult women, but it is a family adventure, after all, with colorful locations, grand sets, and plenty of fun-loving animal moments. Sam Neill is his usual figure of moral strength as Heady's explorer father, and John Cleese imparts a little deadpan humor as the safari's absent-minded professor.
| | Video | Creation date |
| --- | --- | --- |
| 1 | Green warning screens | June 19, 1992 |
| 2 | Sneak peek at Toy Story | May 19, 1995 |
| 3 | Trailer for A Goofy Movie | May 19, 1995 |
| 4 | Trailer for Muppet Classic Theater | September 27, 1994 |
| 5 | Feature Presentation | October 25, 1994 |
| 6 | Full Screen Format Disclaimer | January 22, 1994 |
| 7 | The Jungle Book | December 25, 1994 |
The earlier copies did not have the previews for Toy Story and Muppet Classic Theater.
The Rescuers (1999 VHS) (January 5, 1999, March 23, 1999)
Community content is available under
CC-BY-SA
unless otherwise noted.